The plant guide of the Arboretum de Galicia is a tool allowing visitors to learn about the main botanical characteristics of some of the species found there.
This guide is part of a set of instruments that facilitate the visit and the knowledge of the species present at the Arboretum. It is structured in different parts according to the type of plant: trees, ferns, heathers, herbaceous plants and meadow plants. This tool does not claim to be original or exhaustive: only the main plants of each category are listed. It is not a scientific reference but a "field tool" developed from existing sources and our own experience in order to facilitate the visitor's access to basic descriptive information. The guide brings together more than 400 sheets, in nearly 1600 pages in total and about 3000 photographs. Our intention is to complete this guide as new plants are introduced in the Arboretum.
Every year the inventory of plants is updated and accessible via the web page. The guide for heathers, trees and shrubs indicates the plot of the Arboretum where they are located.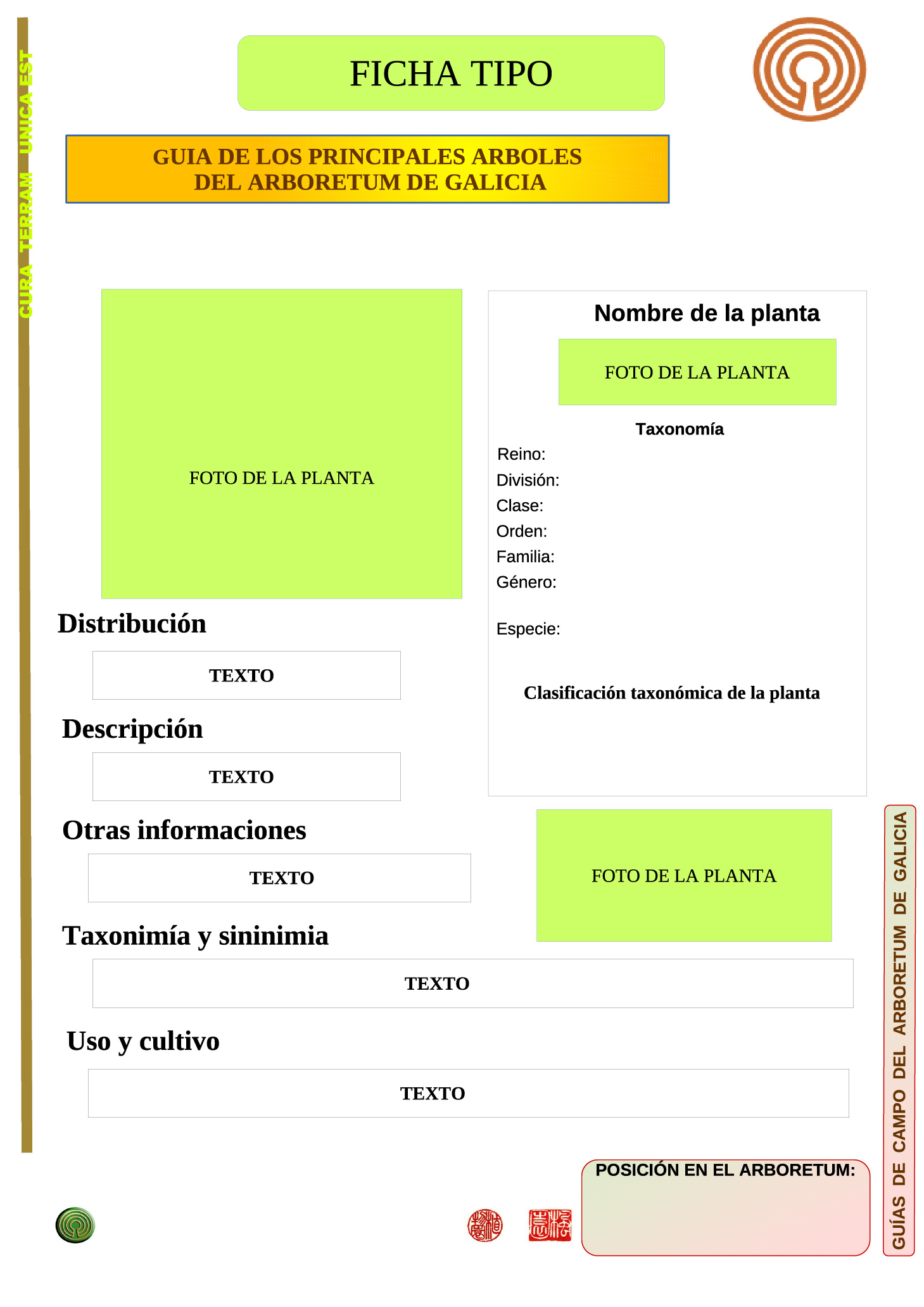 Indica a que guía pertenece la ficha
Lema de Arboretum: Cuida la Tierra, es única
Ideograma sino-japonés de Arboretum. Está en las fichas de árboles y de arbustos arbóreos.
Ideograma para Aceretum, en las fichas de Arces
Indica la o las parcelas en las que se encuentra la planta descrita.
How are the fact sheets developed?
The fact sheets were prepared based on the Wikipedia mock-up and description, and then supplemented with descriptive texts from the Wikiespecies series and other sources. For the cards in Galician Galipedia was the reference. Although the latter source is far from exhaustive, its quality is far superior to that of Wikipedia thanks to the enormous work done by Galician botanists. The sheets were completed with information on the botanical characteristics and conditions of development, multiplication and fitopatology of each plant, based on botanical data and own contributions and experiences. The cards indicate the location of each plant in the Arboretum.
We present our own pictures as well as those from Wikipedia Commons or other sources that have authorized its publication. We thank the photographers ("Ahí está" flick, "Teresalaloba", etc.) and the botanical databases (Telabotánica, Visioora, etc.) who facilitated our access and allowed us the use of their works. Of particular note is the enormous work of Jesús Morado "Flora de Galicia", a botanical base of encyclopedic dimension with incredible technical and photographic qualities. This is an indispensable work for all lovers of Galician nature. We thank the photographers as well as Mr. Morado for their selfless collaboration.
To facilitate the use of the guides we have classified the plants in a flexible and sometimes unorthodox way. Some of the plants included in the 'shrub' section could be cataloged as bushes. This is aimed at simplifying the guides. Hopefully, the more orthodox visitor can forgive us.
EXAMPLE SHEET OF FIELD GUIDES: Quercus robur, Carballo, Roble